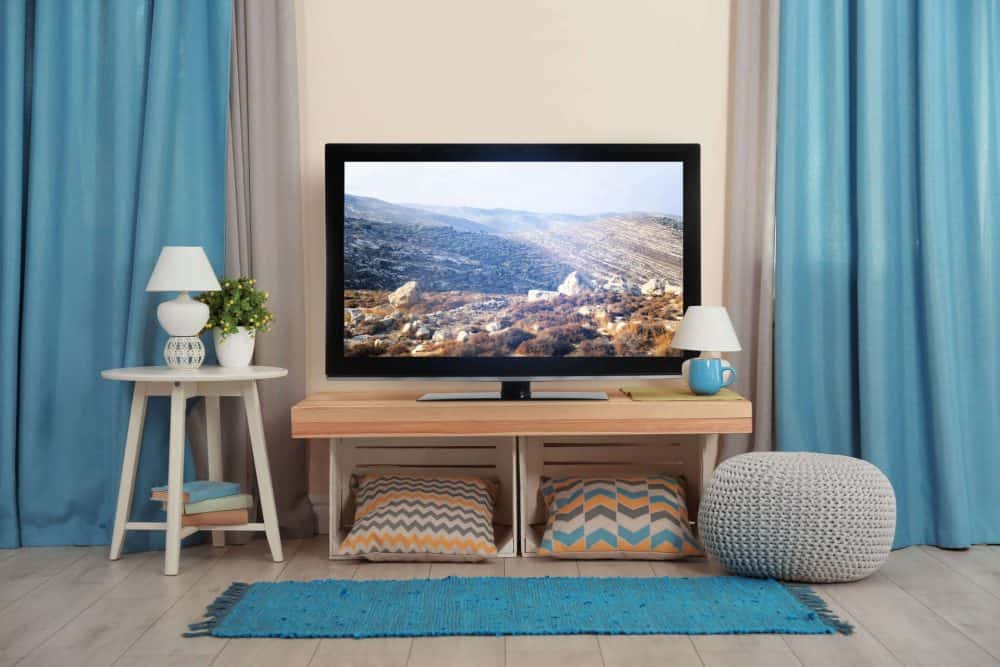 In most contemporary homes, the TV is the main focal point of any living space, often taking the place of the family hearth, and even in older properties that still possess fireplaces, the TV is what draws people in. We gather to watch the latest releases, cheer on our teams, or to settle in to catch up with our favourite characters, and with the latest smart technology, we can order our shopping, play games against our friends, or even work – all via the screen in the corner. 
It makes sense, if you're looking to purchase a new TV, that you have all the facts at your fingertips in order to make an informed decision. After all, you'll be spending hours watching it, so it needs to be just right. 
Screen Size
The most immediate consideration is probably the screen size. Measured across the diagonal, from one corner to the opposite, this is expressed in inches. 
The two main factors in determining the size to choose are most likely how many people will typically be watching the screen at once and where you plan to put it. Most screens can be wall mounted, even coming with custom fitting for that particular model, and many favour this as an option. However, they also arrive with feet, enabling you to place the screen on a unit or shelf, if that's easier for you. 
If your room is larger than average, it pays to look at larger than average screens in order to negate any eye strain from sitting too far away. A good rule of thumb for ideal viewing distance is a range of 1.5 – 2.5 times that of your screen size; however, if you go for a high spec 4K TV, due the improved resolution and pixel size, you can sit closer without any detrimental effects on the image displayed.  
The optimal size today, taking into account price, performance and the size of the typical living room, seems to be between 50 inches and 65 inches.
Screen Resolution
The screen resolution refers to the number of pixels that make up the display, and the higher the pixel count, the sharper the image. These are described on the horizontal and vertical axis. Full HD used to be the most commonly chosen resolution and equals 1920 x 1080 pixels, but with manufacturers bringing out more advanced screens all the time, 4K models are now fast becoming the norm in the US. These have a resolution of 
3840 x 2160, and provide impressively crisp, life-like images, with highly defined details and sharp text. 
Quadrupling the resolution of 4K, 8K TVs are just hitting the market. With jaw-dropping displays that push into new, unrivalled televisual territory, these TVs are the stuff technophiles dream of. 
Refresh Rate
The refresh rate refers to the images displayed per second, with most TVs offering a rate of at least 60Hz, and more expensive models having 120 – 240 Hz. The higher the rate, the smoother the scrolling. This is important for fast action movies, and if you plan to use your TV as a games machine.
Smart TVs
An increasing number of TVs are smart enabled. Built-in WiFi allows connections to internet-based services, such as Netflix, YouTube, Amazon and Hulu for live streaming, or downloading, movies and music, playing games and for posting to social media.There are readily available apps that can turn your smart TV into your home hub, and with improved interfaces, voice recognition and access to Alexa or Google Assistant, the home entertainment options are ever-growing. 
However, not all smart TVs are the same, and many budget-friendly brands offer smart TV functionality, but with a variety of limitations. These, usually smaller models, are ideal as a second set for the kitchen, bedroom or children's room, where internet capabilities aren't as important, or, in the case of kids and online safety considerations, positively discouraged. 
Buying a new TV can feel like swimming through the mud with all the permutations available, but really, once you've decided on the important factors, it becomes far easier to pick a set that suits your needs perfectly.